Whitefield Bangalore – the tech hub where hundreds of candidates across the country fly to for better job prospects. Now thriving with job opportunities, Whitefield was just a suburban area in the early millennium. We can see that it has become a hub for the best companies out there that are employing thousands of people every year.
Whitefield is now all about tech parks, upmarket apartments, malls like Phoenix Marketcity and VR Bengaluru that house global brands, and much more.
It is the perfect weekend chill spot as well as the place where you wish to work and live. It is a hotspot for cafes, hotels, movie theaters, brewpubs, art galleries, live music, and alfresco bars, which has brought so much life into the place.
This part of the city has an identity of its own. From recreational centers to schools and hospitals, one is just a few miles away in Whitefield.
[wp_ad_camp_1]
In the late '90s, Whitefield was a region that was far away from the city and was known for the famous Sai Baba Ashram. Little did anyone know that it will boom as a hub for such amazing corporates.
Over time, townships like Prestige Shantiniketan were created that provided cheap residential apartments that were close to the booming tech hub. Now it is thriving and buzzing with people and holds great prospects for the future as well. Fabricated with the IT revolution, this is the dream place to stay for many careerist Indians.
In this blog, we are going to talk about the list of companies in Whitefield Bangalore. Notably, this village-turned-suburb-turned-city has the higher number of tech parks in a single area in Bangalore!
Whitefield Bangalore companies
Aegis
Mu Sigma
Accenture
Hewlett Packard
AIG
Tesco
Capgemini
Dell
Schneider Electric
Huawei
Unilever
GE Healthcare Flipkart etc.
We will provide a brief description about some of the companies near Whitefield.
Aegis
Aegis, a unit of the Essar Group was founded in the year 1992. In 2004, Essar Group purchased Aegis, which has its headquarters in the United States and Mumbai. With a wide base of clients in fields like telecom, hospitality, gaming, travel, and consumer goods, the company is mainly a BPO arm of Essar. Undoubtedly, when people talk about Whitefield, Aegis becomes a part of the discussion.
Mu Sigma
It is unlike other services companies in the nation. A management consulting firm that provides data analytics as a service – that is unique. It was founded in the year 2004 by Dhiraj Rajaram.
The company is valued at over $1 billion, which is noteworthy.
[wp_ad_camp_1]
TCS
Tata Consultancy Services is a famous name and it hires lakhs of people every year. It is one of the largest private-sector that hires in the nation. It has been ranked constantly as India's top IT company.
Founded in 1968, it is also one of the oldest IT companies in Whitefield. TCS is known for taking care of its employees well and this is the reason why candidates across the nation apply for getting an opportunity at TCS.
Mindtree
Mindtree is another famous organization that is located in Whitefield Bangalore. It was founded in 1999 by Subroto Bagchi and some other entrepreneurs. Mr. Bagchi is a famous figure in corporate circles because of his books and entrepreneurship.
Mindtree deals with the latest technologies like cloud computing, data analytics, and eCommerce, entrepreneur resource planning, etc. It has more than 19,000 employees across 17 countries. Mindtree has acquired over 11 companies over its 19-year existence.
Accenture
We are pretty sure that you have heard about one of the largest management consulting firms across the globe, Accenture. It mainly deals with strategy, technology, analytics, digital marketing, and mobility services. Accenture is an Irish domiciled multinational company and a Fortune global 500 company. Accenture came up with revenues of $44.33 billion last year and had 569000 employees. Its headquarters is in Dublin, Ireland.
Oracle
Another MNC registered in the United States, Oracle was founded by Larry Ellison. It was founded in the year 1977 and is a popular name in the database management industry. In this regard, it should be noted that Oracle also owns Java. Oracle India has offices across the country.
Oracle Corporation has its headquarters situated in Austin, Texas.
Wipro Healthcare
While many people recognize Wipro because of its IT segment, not many are informed about its Healthcare division. Its healthcare division manufactures medical devices that deal with the biggest health problems. They also build software that caters to the same segment.
It is a part of our top Software companies in ITPL Bangalore list.
Hewlett Packard
It is one of the leading computer and peripherals Manufacturing companies in Whitefield Bangalore.
It started way back in 1939 and is named after its founders Bill Hewlett and David Packard. We think that the name HP does not need any introduction. The brand's Pavillion laptops are doing great in the market and so are its other products. It was founded on November 1, 2015 in California.
AIG
AIG is a popular insurance company headquartered in New York City. It was founded 99 years ago in Shanghai. It has become one of the major insurance providers across the globe and gained the spotlight after being the official sponsor of the Manchester United Football Club a few years back.
AIG has also partnered with Tata so that India's masses can gain access to insurance. It is an American multinational finance and insurance corporation, which hires lakhs of candidates every year. It is spread across more than 80 countries and jurisdictions.
Tesco
One of the largest retailers in the United Kingdom, Tesco deals with groceries and other household items. It was founded in the year 1919 and has gained a reputation in the sector.
They are the 9th largest retailer across the globe with stores in Europe and parts of Asia. With more than 6000+ stores in total, Tesco is quite a famous name among the top companies in Whitefield. It is a British MNC dealing with groceries and general merchandise.
Its headquarter is situated at Welwyn Garden City, England.
IBM
International Business Machines, one of the oldest companies on the list, was founded in 1911. It employs more than 350000 staff in India, which is incredible. In this regard, we can say that it hires massively, thus creating job opportunities in the nation.
Its headquarter is situated at Armonk, New York.
Their operation is spread across more than 170 countries.
Capgemini
Capgemini deals in IT services, outsourcing, consulting, and other professional services. It has a vast presence in India with over 50% of its employee count in the country. Capgemini has over 100,000 employees in India.
It offers services in fields like Green IT, Procurement, Finance, Infrastructure, Workforce Management, Supply Chain, etc.
It is one of the top MNC companies in Whitefield Bangalore.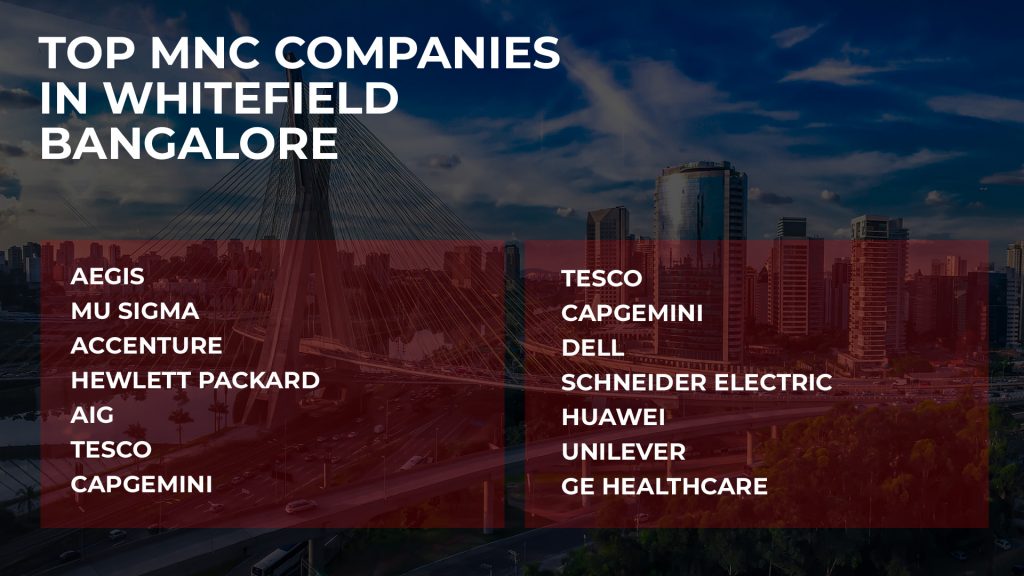 Dell
Founded over 34 years ago in a garage, Dell is again one of the most important companies in this tech hub.
It was founded by Michael Dell and it employs over 103,000 employees worldwide. It is a popular personal computer and desktop brand, which needs no introduction. It sells, supports, and repairs computer-related products and services.
SAP
It is one of the biggest Software companies in Whitefield Bangalore. SAP stands for systems, applications, and products. Its headquarter is situated in Germany and it is a 47-year-old company. This German multinational software corporation is based at Walldorf, Baden-Württemberg.
It is a popular name for its accounting software.
Schindler Electric
Again a French manufacturing company that has its office in the Whitefield tech hub. It generally manufactures hardware products that focus on energy management and automation. They hired a huge number of employees across the globe. It is one of the many manufacturing companies in Whitefield Bangalore.
Huawei
It is China's leading mobile phone manufacturer with its office in Whitefield. They have even beat Apple as the best-selling smartphone company in China. Although its success in India has not been that great, it still hires many employees for its Bangalore office. Their brand Honor has picked up space in the country as well.
Unilever
Again another company that needs no introduction and has its office in this tech hub. It is one of the world's biggest fast-moving consumer goods manufacturers. This Fortune 500 company is a British multinational consumer goods company.
The rich history of Unilever makes it a great brand. Their existence dates back to the year 1929. In India, the company is also called Hindustan Unilever or HUL.
Conclusion: To wrap it up, this place is full of thriving companies, opportunities for people who are looking for jobs in MNC companies in Whitefield Bangalore, etc.
Although there are a few challenges such as the infrastructure and water issue, we cannot deny that the future of Whitefield looks bright. It is becoming a major part of greater Bangalore and is known as the new hub of culture.
If you want a great career and want to live in a lively place, then go through these companies in Whitefield Bangalore list and apply now.
From five-star hotels to mega malls, you name it, you get it. To know more about the list of companies in ITPL Whitefield Bangalore, keep an eye on this blog section.